Here is how we have made it EZ to purchase New Phone Systems.
We need to know how many phones you need in your office?
How many incoming phone lines will be connected in your office?
Do you need Voice Mail?
Is the phone wiring pre-existing?
Are you moving to a new building?
We suggest having a meeting with all of your office associates and discuss how you would like your new phone system to work, what kind of future growth, and take notes.
The most popular features are call transfer, hold, auto attendant, voice mail caller ID, and call forwarding.
---
Now we need to choose a phone system system manufacturer. E System Sales, Inc. has been working with NEC and Panasonic phone systems now for years. We have found that NEC and Panasonic New Phone Systems do not fail. We have never had a client calling saying there phone system has failed.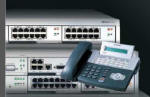 The Samsung OfficeServ Telephone System is a perfect match for business small to what we would call mid size business with many advances features available at your finger tips.
---

The KX-TA824 is a basic phone systems for business or homes with the needs of less than 8 lines in X 24 phones in New York and New Jersey. Great phone system for homes as the phones are attractive and are available in either black or white.
The Panasonic KX-TA824 phones are available in black and white and are most attractive for homes.
---

The Panasonic KX-TDA50G initial configuration is 4 phone lines in X 4 Telephone Stations with a maximum configuration of 12 phone lines in X 24 wired telephones X 24 wireless telephones. The KX-TDA505 has a unique cordless phone system that can cover larger buildings and homes with cordless coverage with IP Phones Available.
---
Now lets discuss phone system accessories. Headsets, Conference phones, Music on Hold, IP Phones, Call Accounting Reporting, Door Phones, and Lightning Protection available for most phone systems
---
What to Expect When You Purchase a new
Phone System from E System Sales, Inc.
You can expect courteous and professional sales personal trained to extract the right information to provide you the right phone system application to what your needs are, professional installation services, self installation support, remote programming services to make sure your new system is performing to meet your expectations, all questions answered when needed for as long as you own your new Telephone System.
---
System Installation
You can expect either professional installation services or support for self installers that want to install the phone system them selves. Once your new phone system is installed we provide free programming services for systems with the purchase price of $3000 or more with 60 days of updates to doubly make sure your new Telephone System is programmed and working the way you want it to work.
We program the systems safely and securely using Show My PC where we log on to your Windows PC and log out when we are done. A Windows PC and a Cable or DSL internet connection is required. A satellite internet connection will not work.
---
Voice Over IP - VoIP
The truth about Voice Over IP Phone Systems. The only way Voice Over IP Phone Systems are cost effective are if your company or office has a need for offsite phones at remote locations or the need to connect offices. To fill a single office phone system with all IP phones is going to be very costly.
Vonage or Magic Jack type IP Services are a excellent for business with the need of making lots of out bound long distance calls.
Hosted IP Phone Systems are cost effective for business with out a main office and contain 2 to 6 employees that work from home.
---
Home Phone Systems
Panasonic Home Phone Systems sales, installation and support services available in all of New York, Maryland, Philadelphia, PA and New Jersey.
---
Complete security camera systems available with monitor, digital recorder, 4 cameras, and plug n play cables for as low as $499.00